An electric bike is great for getting around town and the city. They're also great to take with you on the road, whether cross country, road trip, or to your local trailhead. Whether it's a typical electric bike, fat tire ebike, cargo ebike or even an electric trike, you'll need a sturdy bike rack for that. Which type exactly? And which one should you be looking at? What else should you consider?
We dig into the ins and outs of some of the best bike racks available for your electric bike to narrow down your search and what you'll need to get your electric bike on your car, SUV or even your RV, and out on the open road.
Weight Capacity is Key
The main thing to consider when looking for an electric bike rack is the weight capacity of the rack. Compared to your typical road bike (around 17-18 lbs), a single electric bike can weigh an average of 55-60 lbs, with some models weighing up to 80-90 lbs!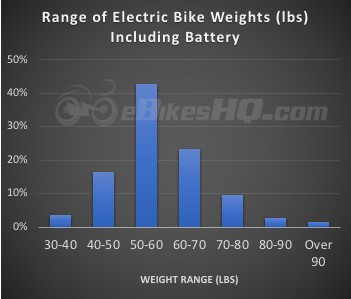 With that in mind you'll want an electric bike rack that's strong enough, easy to load and that fits the particular size and type of your electric bike. 
Narrowing Down the search
There are a ton of makes and models of bike racks out there, but taking into consideration some of the unique requirements that an electric bike may have, we can narrow down the search and arrive at a few models that make the best fit.  There are three main considerations when looking for a bike rack that will be suitable for your electric bike.
Can the bike rack carry the likely heavier weight of your ebike(s)?
How easy is it to load your ebike onto the rack?  Closer to the ground is better in this case.
How adaptable is the rack to various shapes and sizes of electric bikes (fat tire, cargo bike, trike, etc.)
With these three criteria in mind let's look at some of the rack types and what might be best for electric bikes.
Consider your Mounting Style
There are three main types of racks for bikes: roof racks, trunk-mounted racks, and hitch-mounted racks.  The first two generally aren't as suitable for heavier electric bikes, while hitch mounted racks offer the highest weight capacity and the most flexibility.
Roof racks are out
If you think mounting a regular bike up on a roof bike rack is tough, try adding 40+ lbs of bike and hoisting up an electric bike. For this reason alone I wouldn't recommend using a roof rack for your electric bike if you can avoid it.
Trunk Mounted Rack
These types of racks mount to the trunk or rear hatch of cars and SUVs.  These are generally limited to a weight limit of 35lbs per bike.  They also have the added drawback of having the supports higher off the ground, requiring more lifting to get the bike into place.
These types of racks, although cheaper than hitch-mounted racks, generally won't be suitable for a heavier electric bike.
Hitch-Mounted Racks – Your Best Bet
Hitch mounted bike racks do just what they say and mount to a hitch on your car, truck, or RV. If you don't already have a hitch then this is another required piece of equipment for a hitch-mounted rack.
All of the best electric bike racks that I've found are hitch-mounted racks.  There are a few reasons for this:
Hitch mounted racks generally have higher weight capacities than other types of racks
They offer more flexibility in loading/unloading your trunk, with many hitch mounted racks having a 'tilt' function to give access to your trunk while your ebikes are still mounted to the rack
Hitch mounted platform racks, which support the wheel of the bike, offer the most flexibility for a variety of bike sizes and frames.  With electric bikes the center of gravity isn't always in the center so supporting the ebike by the wheels offers better stability and support.
What Size of Hitch Will I need? 
Hitches are generally custom fit to each vehicle, with the mounting tabs welded in a specific location for each make and model. So if you have an old hitch lying around, chances are it won't fit a new or different vehicle. Hitches come in 5 different classes, corresponding to the strength and towing capacity of the hitch.
The class of hitch you'll need for your bike rack will likely fall into the range of class II or III. You'll likely want to get a class III hitch with 2″ receiver tube. This allows the most flexibility for a number of hitch-mounted racks as well as reduces the side-to-side movement that comes with a smaller hitch.
However, if you plan to tow a trailer at some point with your hitch, this should be you're the main criteria for sizing the hitch. New hitches run about $200-400 depending on the size and type.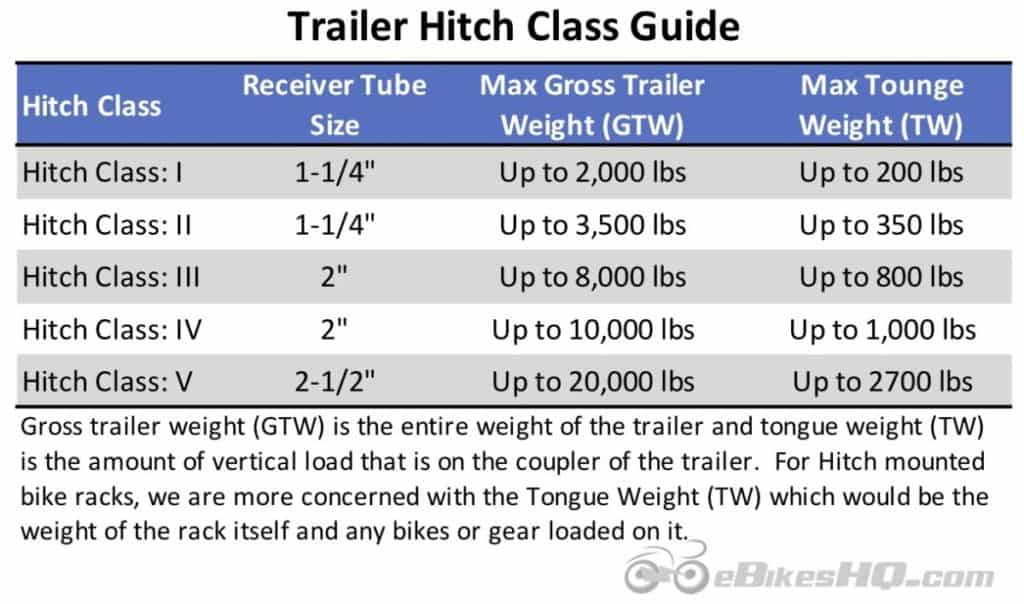 GTW stands for Gross Trailer Weight, and TW means tongue weight. Gross trailer weight (GTW) is the entire weight of the trailer and tongue weight (TW) is the amount of vertical load that is on the coupler of the trailer.  For Hitch mounted bike racks, we are more concerned with the Tongue Weight (TW) which would be the weight of the rack itself and any bikes or gear loaded on it.
Top 4 brands that have racks well suited to electric bikes
Hollywood Racks
Their Sport Rider hitch mounted rack is specifically made for electric bikes with large weight capacity for two 80lbs ebikes.  This model has several options to allow the proper fit for standard electric bikes (with 3" wheel hoops cargo ebikes, fat tire ebikes (larger wheel hoops for tires up to 5" wide), and even the three-wheel variety – electric trikes!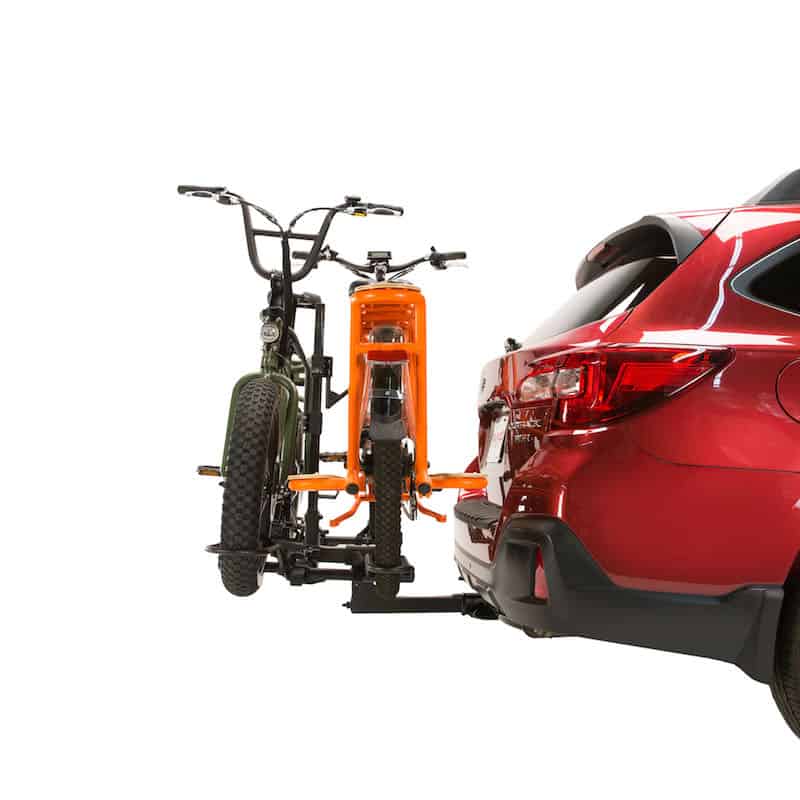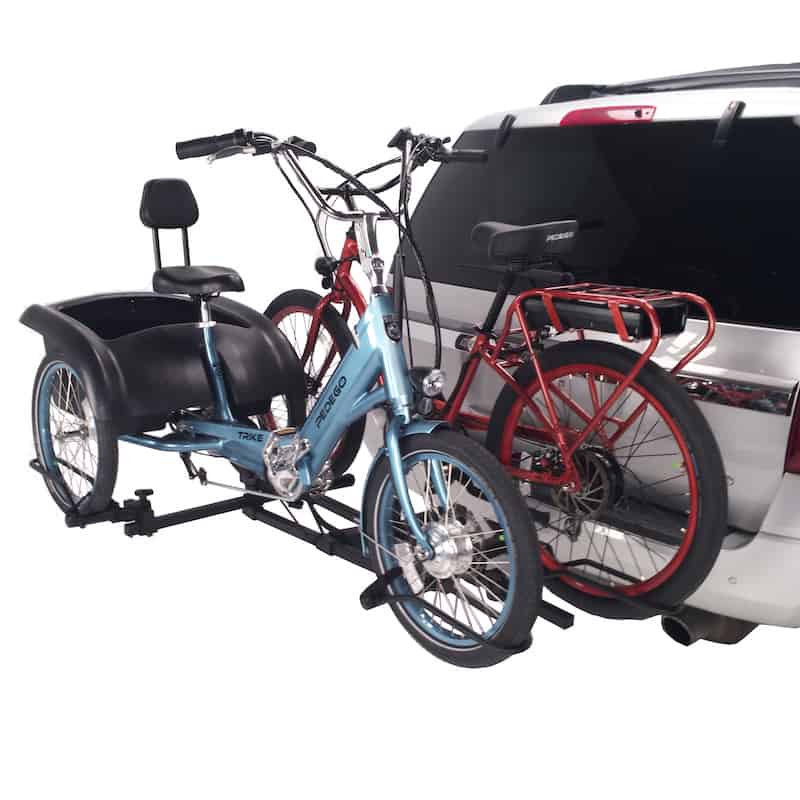 Saris Bike Racks
Saris has two models well suited to electric bikes, one with a 2-bike capacity and one with 2-bike or 4-bike models. 
The Saris Freedom EX 2-Bicycle Universal Hitch Rack has capacity for two electric bikes, up to 60 lbs each.  The rack itself is only 27 lbs, so with two 60 lbs ebikes mounted to it, it falls under the maximum tongue weight of a class 2 hitch (up to 350 lbs).
The Saris Superclamp Hitch Car Rack has a 2-bike model that carries up to two 60 lbs Electric Bikes, and allows up to 4" fat tires to fit. The rack weight is 35 lbs and is also compatible with a smaller class 2 hitch with two electric bikes (under 60 lbs).
Thule
Thule EasyFold XT 2 Hitch Bike Rack is a compact bike rack that can carry two electric bikes with a combined load capacity of 130 lbs. An optional accessory to this rack is a collapsible ramp for easy loading and unloading of an ebike. This rack will also accommodate fat tire ebikes with widths up to 4.7″.
Yakima
The Yakima – Holdup Hitch Mounted Bike Rack has capacity for two 60 lbs electric bikes. This rack requires a 2″ hitch receiver and can accommodate tire widths up to 4.8″ wide.
The YAKIMA – HoldUp EVO 2″ Hitch Mounted Tray Bike Rack, 2 Bike Capacity can hold two electric bikes up to 50 lbs each.
3 More Tips to Keep in Mind
The easiest Way to Load a heavy electric bike on a bike rack?
Use a loading ramp, provided by many manufacturers for platform hitch mounted ebike racks.  This will allow you to roll a heavy electric bike up the ramp and into place on the rack, saving you time and probably your back in the process!
Remove Your Electric bike Battery (if possible)
If possible, I would recommend that you can take the battery off the bike to reduce overall weight on the bike rack.  Most Electric bike batteries range in weight from 2-10 lbs, depending on the battery capacity, but some high capacity batteries can weigh up to 20 or even 30 lbs!  Reducing the weight of your ebike will make loading and unloading from your bike rack that much easier.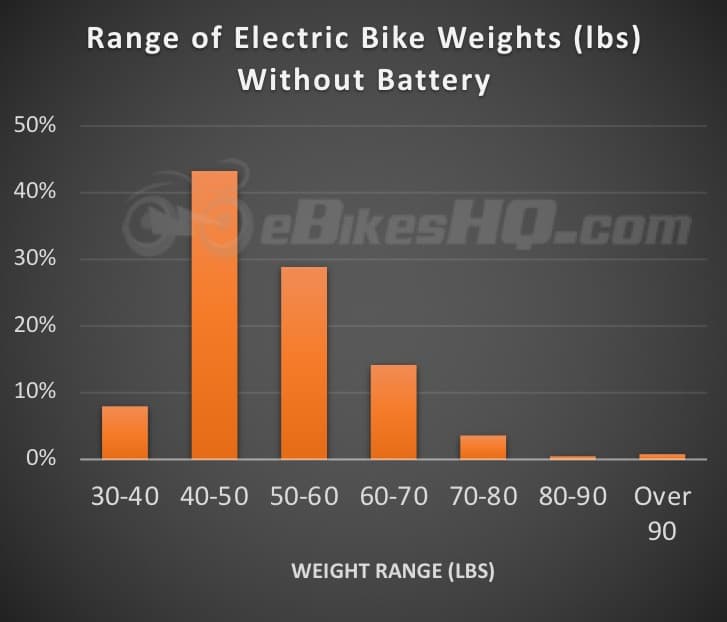 While you do have your electric bike battery in the car, be sure that it doesn't get left in there on sunny day and get too hot.  Lithium-Ion batteries shouldn't get too hot or too cold, or they could get damaged and their lifespan may be shorter.
Need a Bike Rack for your RV, Trailer, fifth wheel, or towed vehicle?
Check the specs and small print for any bike rack you're considering using on an RV, Trailer, 5th wheel or towed vehicle. This note from the Hollywood Rack Team caught my eye in the Q&A on amazon.  Best to check with the manufacturer and your particular needs if this applies to you.
Any trailer or trailered vehicle (including 5th wheel type) has a slight side to side motion that's very low frequency (1 to 1-1/2 times per second) that fatigues the steel from which the racks are manufactured. The fatigue first happens at a molecular level, but eventually (several thousands of cycles later) a visible crack will appear. Once the crack has formed, it will enlarge, finally to the point where the rack drops off the vehicle and the rack (and bikes) impact the roadway.
Coincidently, because of this issue, Hollywood Racks has a specific electric bike rack (the RV Rider) for RV Motorhomes, a 5th wheel or a flat towed vehicle. This rack can carry two electric bikes up to 80lbs each.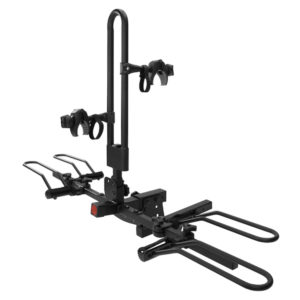 Also in the RV camp is the Swagman RV Approved Escapee Hitch Bike Rack.  This rack is rated for heavier ebikes, again up to 60lbs each.
Conclusion
Whether you're just starting to venture into electric bikes, a seasoned pro with thousands of miles under your belt, or somewhere in-between – I hope you've found this guide useful and you get out on the road with your ebike this season.