Thinking of selling your e-bike but don't know how to begin? Fortunately, there are several ways you can sell your e-bike, but you have to understand how to price it correctly so that you don't lose money.
You can sell your e-bike on eBay, Facebook Marketplace, Craigslist, Facebook groups, online forums, and sites specializing in bikes such as Bike Soup. You can also sell to friends, dealers, and pawnshops. Take great photos, clean your bike, and stay safe by meeting in public and accepting cash.
If you would like to learn more about how to sell your e-bike while losing as little money as possible, continue reading.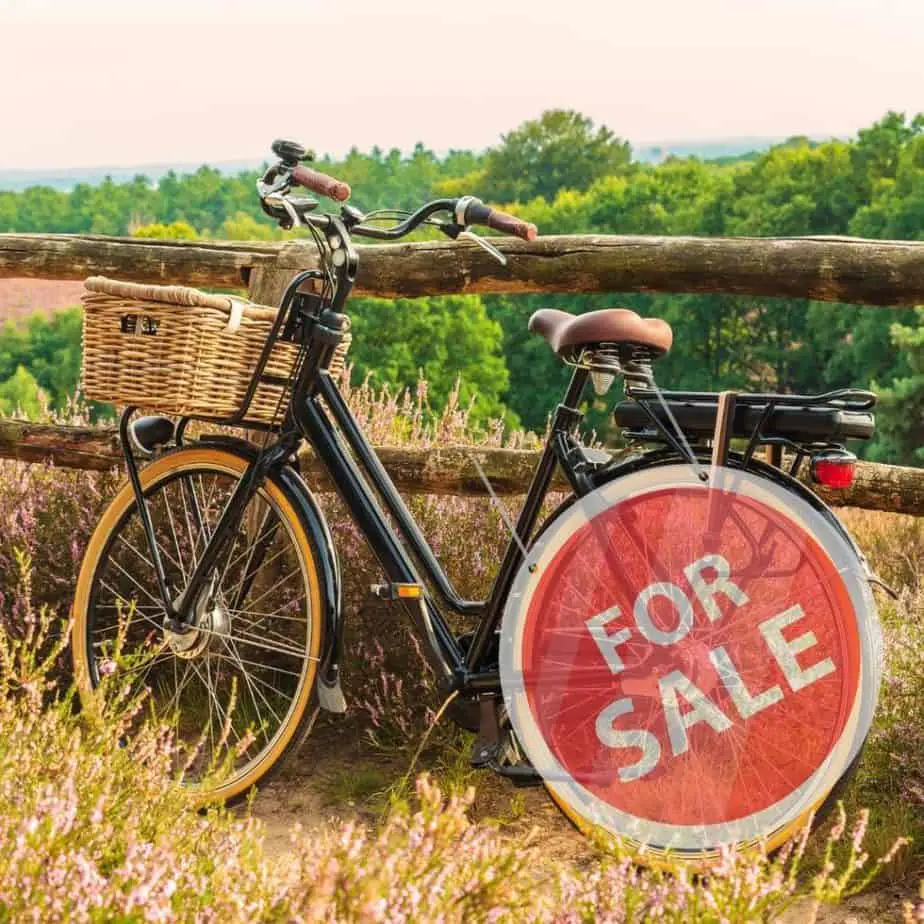 Where to Sell Your Used E-Bike
There are several places you can sell your used e-bike, both online and offline. Here are some places to consider.
eBay
eBay is one of the largest online marketplaces, especially for selling used stuff such as used vehicles, used e-bikes, cars, and motorcycles.
You have several options when selling on eBay. You can offer to ship or only sell to local people. If you only sell to local people, you can require them to pick up the bike, so you don't have to deal with acquiring transportation. If you want, you can require the purchaser to make a deposit before paying in cash to guarantee the sale.
You can either sell the bike for a set price, allow users to make an offer, or sell it on auction, with the e-bike going to the highest bidder. Auctions can have a minimum bid to qualify (which you can hide from buyers), so you can guarantee that you get a specific amount of money.
Online Marketplaces
Other online marketplaces you can sell your e-bike include Craigslist, Facebook Marketplace, OfferUp, and various other online marketplaces and apps. Keep in mind that if you choose to sell your e-bike on such marketplaces, you will be more likely to have your time wasted by buyers who flake and never follow through.
However, you can also look for online marketplaces that specialize in used bicycles, such as Bike Soup or The Pros Closet. The latter website buys the bike directly from you, so you don't have to deal with selling it yourself.
Facebook Groups and Online Forums
Private Facebook groups that cater to e-bike users in your area may be a better option than Facebook Marketplace. Members are more likely to be serious buyers, and you won't have to deal with scammers and dishonest messages. There may also be online forums that cater to people in your area where you can advertise your bike.
Local Dealers, Sporting Goods Stores, or Pawnshops
Make a call to some e-bike dealers in your area and ask if they are currently buying used e-bikes. If it is a dealer that sells used e-bikes, they are more likely to be interested. If your bike was only lightly used and in almost perfect condition, you would have an easier time. However, many e-bike dealers don't buy and sell used e-bikes. If you don't find a dealer in your area, consider trying sporting good stores or pawnshops.
Sell Your Ebike to Friends
You may very well be able to sell your e-bike to friends or relatives. If any of your friends or relatives are interested, make them an offer. One "trick" to convince them to buy your bike is to lend your e-bike to a friend for a week, as long as you know that an e-bike suits their lifestyle (for example, it can be a friend who does not own a car). Often, when your friends see how convenient and easy it is to use an e-bike, they will be sold on the idea of buying one.
You can also make a post on social media, asking if any of your acquaintances would be interested in an e-bike or if they know someone who would. This way, you don't have to bother each of your friends individually, and you can also reach old friends you haven't talked to in a while.
How to Avoid Scams When Selling and Ebike Online
One of the problems with selling online is that there are many scams out there. However, if you are careful, you can avoid scams and stay safe. Here are some tips to help you stay safe when selling your e-bike:
Don't ship: Don't offer to ship. By dealing exclusively with local dealers who pay in cash, you can avoid fake checks, flaky buyers, and buyers who open disputes after you already shipped the product.
Don't offer your personal information: Keep your information private. Craigslist, for example, works by hiding your real email address and rerouting your messages through a Craigslist address. Many online marketplace apps have in-app chat tools you can use.
Meet in a safe area: Always meet in a public space where there are people. Even better, meet by a police station or at a Safe Exchange Point. You can find these safe exchange points by going to SafeExchangePoint.com.
Get a deposit: You will likely be offering your buyer a test ride, so make sure to get a guarantee from them before you allow them to ride away. This can be an ID or driver's license that they need to drive back home or an amount of cash upfront that you hold while they ride around and test your bike.
Check bills: I already mentioned not accepting wire transfers or checks, but always check bills you get. Some buyers will try to pay you with fake bills. A simple Money Marker Pen can help.
Check reviews: If the online marketplace allows sellers to rate buyers, check the buyer's rating. If it is on Facebook, try to see their Facebook Marketplace profile (or if you found them in a group, check their Facebook profile, how long they have been a group member and their previous group posts). Otherwise, try to find out how long they have been a member of the marketplace.
Tips for Selling Your eBike
To sell your ebike, you have to make it presentable. Here are some tips to help you make the sale quicker and get more out of the sale:
Check the ebike's value: Use the Bicycle Blue Book or check online marketplaces to see what a reasonable price would be.
Make it look presentable: Give the bike a paint job if necessary. Clean it so that it is not covered in dirt and grime.
Fix it up: If necessary, repair some parts or replace some parts so you can charge more for the bike. You don't have to fix everything. For example, you may not want to change the battery, but if the chain is rusty and grimy, you may want to change the chain first and advertise the bike as having a new chain.
Allow for a test ride: Allowing buyers to give the bike a test ride will help convince many of them to purchase. If you don't allow a test ride, many buyers will be suspicious and think you are hiding something.
Negotiate: Master the art of negotiating. Always list the bike at a higher price than what you are willing to accept. This way, buyers will offer a lower deal and be satisfied, thinking that they are getting a great deal. You will be happy too, as, in the end, the final price will be closer to the price you wanted.
Take great photos: When selling anything online, it is all about the pictures. If you want to catch attention online and list your bike at a higher price, take beautiful photos in great lighting.