If you've been thinking about getting an electric bike and wondering what the differences are between a factory-built electric bike and one built with a conversion kit, then this is the post for you.
The main differences between a factory-made or an off the shelf electric bike and one made with a conversion kit are cost and customization.  Electric bike conversion kits are generally cheaper, starting at around $500 and going up to $2500 or more depending on the customization.  Factory-made electric bikes start at around $1500 for a decent ebike and go up from there. We'll dig into each of these differences in detail below.  We also list the key pros and cons of both store-bought electric bikes and kits of various types and capabilities.
Jump right to the Pros and Cons.
Key Differences between Electric Bikes and Conversion Kits
These differences are very general and you'll find exceptions to each of these, but this will give you a good outline between the two.
Cost Difference Between Ebike and Conversion Kits
Generally, an electric bike conversion kit will be cheaper than a factory-made electric bike, partly due to the fact that you're only buying the electric bike components and not the whole bike.  There is some overlap in cost, especially if you're comparing a super cheap factory-made ebike under $1000 (like an Ancheer ebike), with a higher quality ebike kit over $1000. 
The cost of a factory-made electric bike generally starts at around $1,500 and goes up from there.   In contrast, many conversion kits can be bought from between $600 and $1500, with most quality kits starting around $1000 with a battery included. 
Some conversion kits don't include a battery, so you'll need to account for the price of an electric bike battery in your overall costs – you'll definitely need one of those to get going on an ebike!. 
I've compiled a few suppliers of electric bike kits with a range of prices and range in overall quality below.  You'll find the range in quality of conversion kits in the motors (quality, precision, and durability of components) and with batteries (size/capacity, quality, and performance of cells).  Similar to a factory ebike, you'll generally get what you pay for in these kits, so the higher price is usually an indication of higher quality.
Company
Price Ranges
Grin Technologies
Canadian company offering high-quality electric bike components and kits.  Ship worldwide.
$600 – $2500 CAD
Ebikeling
$250 and up (without battery)
Bafang Mid-drive Kits
$500 and up with or without battery
Luna Cycle
Mid-drive kits from $350 (without battery). Hub kits from around $900 with battery.  
Electric Bike Outfitters    
Front/Rear hub kits with battery from $1000
Ebikekit.com
Front/Rear hub kits with battery from $1000
Bike Berry  
Front/Rear hub kits with battery from $600  
Customization
Building your own electric bike with a conversion kit will allow you to customize your build to suit your needs more than a factory-made electric bike might be able to.  This is especially true in the battery selection where you'll be able to size the battery to your needs.  Replacement batteries will also be cheaper than replacing a factory-built ebike battery – where these batteries are often packed in a custom housing.
What Comes With an Electric Bike Conversion Kit
Conversion kits include three major components in order to convert a regular bike into an electric bike. These three components are: an electric motor, a battery, and a controller.  Some conversion kits contain all three of these components, while others only include the motor and the controller, leaving the battery as a separate purchase.
Conversion kits generally come in three flavors for electric motor placement: front hub motor, rear hub motor, and mid-drive motor.  Of these, the front hub would be the easiest to make the conversion, followed by the rear hub conversion, and lastly the mid-drive conversion.
The mid-drive conversion is most complicated due to potential bike fame compatibility and the additional effort to install a mid-drive motor to the bike frame. You'll also need some additional tools for a conversion of this type.
Front and rear hub motors come in two types, Geared Hub and Direct Drive.
Geared Hub – This type of motor has gears within the housing to reduce the high-speed efficient motor into the lower speed wheel.  Most geared hub motors have a freewheel inside, which means very little friction when not using the motor, but it also means that you cannot use regenerative braking.  One known exception to this is a relatively new clutches geared hub motor from Grin, which allows for regenerative braking.
Direct Drive – This type of motor has no gears and relies on magnets and alternating current to drive the motor forward.  These motors will have at least some drag when not in use and do allow for regenerative braking, depending on the type and sophistication of the controller. With no moving parts these motos are generally durable than geared hubs.
What's in an Electric Bike Kit
This diagram shows the major components that may be in an electric bike kit. Some of these components are optional, like the e-brakes, cadence sensor and torque sensor – which when integrated into a compatible controller can provide a smoother and more enjoyable ride. Other accessories like lights and higher-end types of battery chargers are usually not part of kits but can be added later in your build.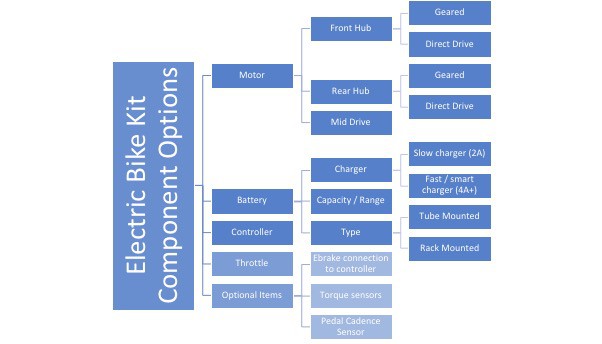 Electric Bike Kits – Optional Components
Some optional components that are found in some electric bike kits include:
Pedal Cadence Sensor – for integrating pedal assist capability into the controller unit
Torque Sensors – for integrating more responsive pedal assist capability
Motor Temperature Sensors
E-Brakes – for shutting off power to the motor when braking
Battery Chargers – basic units will charge slower while more advanced units, like the cycle satiator have the capability to charge at higher rates and more sophisticated charging cycles to prolong battery life.
Front/rear lights integrated into the kit
The Pros & Cons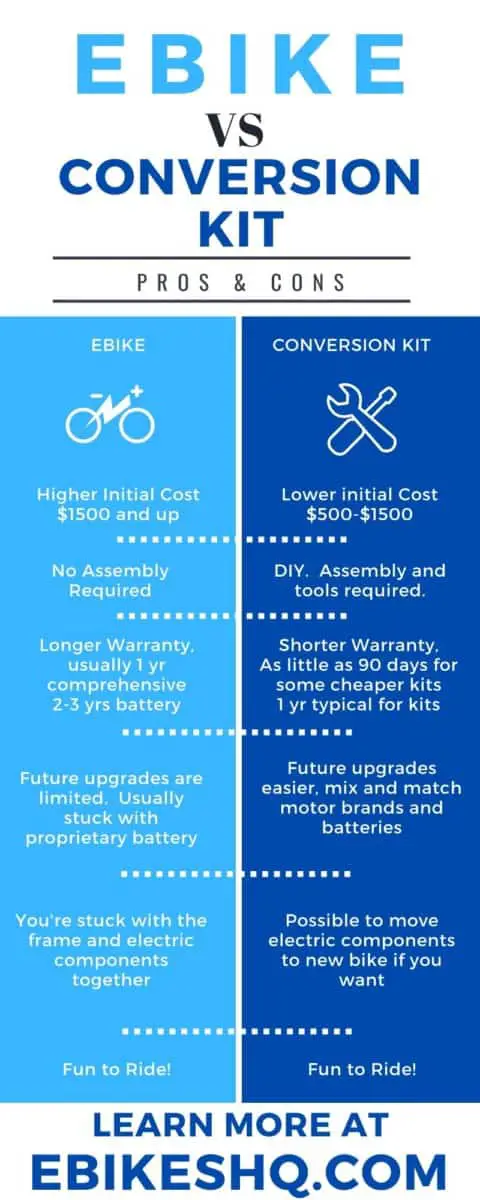 Pros of an Electric Bike Conversion Kit
You get to DIY / put it together yourself!  This might not be a pro for some, with the simplicity and neat package of a factory-built ebike a more desirable option. 
If you do enjoy putting things together this can also prove useful in the future when something inevitably breaks or needs some adjustment on your bike.  Having put it together, from start to finish, you'll be much more familiar and ready to tackle common maintenance issues or changes that crop up with electric bikes and bikes in general
Your value for money generally goes further with a conversion kit.  If you already have an ideal bike that you love and want to convert, the cost of the frame and all basic components is already taken care of.
You'll get to pick just the specs you'll need, down to the motor, battery and other add-ons available with some kits.  Off the shelf electric bikes will have some options, but not nearly as many combinations as a kit. 
If you're needing a very custom build for something like a trike, tandem, high-powered off-road ebike, etc. then a kit or DIY is the way to go.
You can move the electric bike kit to a different bike in the future if you want
You'll have better opportunities to upgrade your electric bike kit in the future as technologies change or your needs change.  For example, if you find that you have a longer commute, you can easily upgrade the battery, or if you need more speed, you could likely upgrade the voltage / controller to get the boost you need.
Cons of a Conversion Kit
You'll need to be a bit handy and like to DIY or tinker.  In contrast to the pro above (of being able to build your own bike), if that's not your thing then it will be a con for you.  Expect to spend a few hours on converting the easiest builds, to several days if your conversion project gets more involved and customized.
Related to this, you'll need some special tools for ebike conversions that involve more customization
If you're looking for a nice neat package that you could put on a show room floor, putting together a kit won't likely get you there.  Extra wires, a larger front/ rear motor at times, can look a little less natural or bulky.   But times are changing and the stigma with electric bikes is changing too I think with all kinds of people getting into electric bikes in a big way.  A kit will still get you from A to B.
When putting together various components for your bike some components may not have as great a warranty or support as an off the shelf bike.  Top brands today typically carry a 1-year comprehensive warranty and 2-3 year warranties on batteries and other electrical components.
Depending on the current bike you use to convert to an ebike there may be some added upgrades that are required including better tires and brakes.  If you are adding a mid-drive kit then a stronger chain will likely be required since the mid-drive motor will put more stress on the chain and gears.
If you purchase a hub motor separately from the wheel it will need to be re-laced into your existing wheel or in a new one if the wheel needs to be stronger.  This may not be a disadvantage to you but requires special tools and experience to re-lace a hub motor into a wheel
If you don't have a bike to convert then getting the frame and basic bike components will be an added cost
Pros for Turn-key Electric Bike
An integrated efficient package, generally designed from the ground up, that you know will work
Ready to ride out of the box or store, or with very minimal assembly. 
Better assistance and support from retailers in sizing and fitting an electric bike for your needs
Better warranties and support from local bike shops for maintenance and repair.
You usually have a choice of color for your ebike.
Cons for Turn-key electric bike
Future upgradeability is limited.  With a turn-key ebike, you'll generally be stuck with the stock components.  New models can change core components and the custom frame that houses all the latest mid-drive motors and components of today, won't necessarily fit the mid-drive motors and components of tomorrow. 
Any tinkering with the bike's components will often void the warranty.
Inflexible and costly batteries.  The cost of ebike batteries, although quite high quality, can be quite a bit more for brand name turn-key electric bikes and there's a risk that you'll have trouble replacing the battery pack in the future.  Every battery will need to be replaced in time and if the manufacturer of your ebike goes out of business or no longer supports their older model, you may be stuck trying to repack an old battery casing or finding a less ideal battery replacement when the time comes
Proprietary controls and components that outlive companies.  If you plan on keeping your brand new electric bike for 5 or more years, your controls and components could outlast the company that made them.  In many cases today turn-key electric bikes have a frame that is engineered around one specific product interface.   If the custom product fails and replacement parts are no longer available, you could be out of luck or face some difficult repairs or retrofits. 
Conclusion
In past years when electric bikes were just gaining in acceptance and popularity, the only way to get an ebike in many cases was to make your own.  These days electric bikes have come a long way with almost every bike manufacturer offering some sort of electrified option for their bikes and many designing whole ebike systems from the ground up. 
Choosing between a factory-made electric bike and a conversion kit will mostly come down to your budget, propensity to assemble and make things yourself, and the level of customization you require for your electric bike.
Whether you choose a factory-made electric bike or a conversion kit for your existing bike, getting from point A to point B will definitely be more fun!